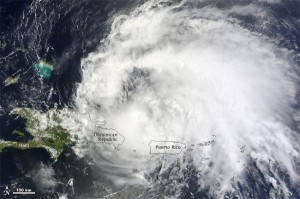 Damaging and Sweeping the cities in its path, Hurricane Irene is now heading towards US.
Storm Irene which is gaining strength every moment currently has a  maximum sustained winds of 160km/h (100mph).
Recorded as one of the worst Hurricane threat to the US in the last 3 years, Forecasters say the storm is set to intensify further, reaching the south-eastern US by the weekend.
Irene currently is in Level 3 danger zone and is dreaded to become more severe as it earlier swept over Puerto Rico and the Dominican Republic with strong winds and heavy downpours.
"We didn't anticipate it gaining this much strength this early," meteorologist Chris Landsea told the Associated Press.
Locals in US are preparing for the storm thanks to the worst experience of such storms.
Hurricane Irene is on a projected path to reach the US by the end of the week, possibly making landfall in Georgia, South Carolina or North Carolina.