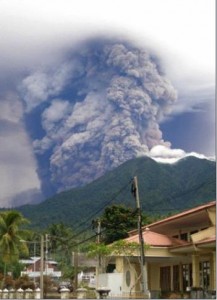 The most dangerous and volatile of Indonesian Volcano's has started erupting forcing mass number of people to evacuate the region for safety purposes.
Officials say Mount Merapi, in central Java, began erupting just before dusk on Tuesday, spewing plumes of hot ash and hurling rocks into the air.
Its been estimated that so far 30 thousand people are on the move for safety and plenty more to follow the evacuation.
Its been very difficult for the officials to maintain such a horrific nature tragic and reports are coming that the officers find it very hard to control and monitor the evacuation.
Update:
Indonesia has been hit by 10 foot tsunami that  swept away homes, killing at least 113 people!