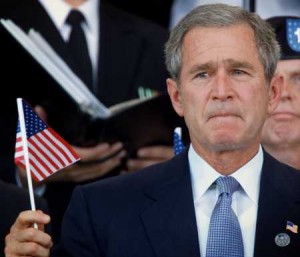 Former American President George W Bush has finally admitted that there were no weapons of mass destruction in Iraq and his decision on invading Iraq was a grave error.
Now he speaks about it!
When Mr. Bush was the president of USA, many countries and democratic leaders informed Bush not to make war on Iraq and told him that the information of Iraq building mass weapons to attack USA was faked by some peace disruptors.
But  George W Bush didnt even considered the message and marched the American army towards Iraq and killed thousands of Innocent Men, Women and Children.
During the last days of his Presidency, Mr Bush sticked to the fact of invading Iraq was Correct and he made a campaign justifying the invasion.
But what happened now? Why is he accepting that he knew Invading Iraq was a error?
Huh?
Where did  George Bush confessed his mistake?
Bush writes of the errors involving the Iraq campaign and the failure to find the weapons of mass destruction (WMD) in his new book, 'Decision Points', that is to be released next week.
He admits feeling a "sickening feeling" when he learned there were no mass destruction weapons in Iraq and said "cutting troop levels too quickly was the most important failure of execution in the war," according to excerpts from his book, released by 'The New York Times'.
Will Mr. Bush confession, bring Millions of life back that suffered a gruesome death in Iraq?