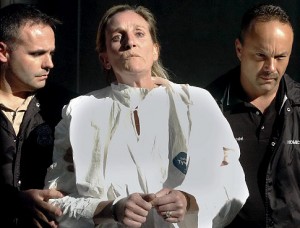 Julie Schenecker, wife of an US Army official Parker Schenecker, has killed her teenage son and daughter for unknown reasons.
The daughter Calyx Schenecker was aged 16 and son Beau Schenecker was aged 13 year old when the incident happened.
Its disturbing to know when you are not safe even at your mother's end. For centuries since creation, man has always believed in his mother for protection next to God. When such incidents occur, it questions one's faith whether to believe in their own blood or not.
How the Incident happened?
According to Huffington post, An arrest affidavit said Julie Schenecker shot her son twice in the head in the family car "for talking back" as she drove him to soccer practice. The report said Schenecker then drove to their upscale home and shot her daughter in the face inside the home.
It is reported that the crime scene was so horrible and mentally disturbing that the police present on-spot had to undergo counseling themselves.
Investigators believe the teens "never saw it coming," said police spokeswoman Laura McElroy. Both were killed with a .38-caliber pistol. The arrest affidavit said the weapon was purchased five days earlier.
Neighbor's Reaction
Neighbor Charanun Soodjinda said the Scheneckers "fit right in" when they arrived. The couple's two children often played in the cul-de-sac with other neighborhood kids, and Julie Schenecker seemed to be at home a lot.
"They seemed like a nice family," said Soodjinda, 38. "I never thought this would happen. How could you do that to your children?"
Che, this is annoying in my view, one bad decision by the mother has shattered the  dreams of the father, destroyed the life of the children and the livelihood of the family is over.
If people really couldn't control anger and/or disappointed with their life style, why couldn't they just consult a doctor on this regard. If Julie Schenecker had done so, today she might have been with her family smiling and playing with kids!!!