Its an historical day for Egypt nation as their demand has finally met by the resignation of President Mubarak.
Mubarak, who refused to step down for over a month, finally gives in to pressure as huge crowd gathered  near his residence.
Vice President Omar Suleiman said in a brief televised statement. His statement in full: "Hosni Mubarak has waived the office of presidency and told the army to run the affairs of the country. "
The statement was greeted with heavy cheers as the people celebrated the resignation of Ex-Egypt President Hosni Mubarak.
It is reported that Mubarak has left Cairo ( Egypt) with his family and is now located  in a safe place.
As the power has been handed over to military, it will be very interesting to note how the military uses it. We hope Egypt doesn't end up like Pakistan with military dictatorship.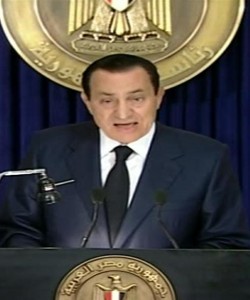 Watch the live stream video below