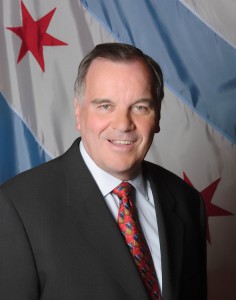 Mayor Richard M. Daley of Chicago said Tuesday that he would not run for re-election when his term expires next year, an announcement that could have implications from the Windy City to the White House.
"I've done my all. I've done my best," Mr. Daley told reporters during a news conference at City Hall in Chicago. "Now, I'm ready with my family to begin the new phase of our lives."
The news created an immediate stir inside the West Wing.
"No mayor in America has loved a city more or served a community with greater passion than Rich Daley," President Obama said in a statement. "He helped build Chicago's image as a world class city, and leaves a legacy of progress that will be appreciated for generations to come."
Rahm Emanuel, the chief of staff to President Obama, has talked openly about his desire to run for mayor of his hometown. He has said that he would only consider running if Mr. Daley decided to step aside.
"One day I would like to run for mayor of the city of Chicago," Mr. Emanuel said during an April interview on "The Charlie Rose Show."
"First of all, let me say it this way: I hope Mayor Daley seeks re-election. I will work and support him if he seeks re-election," Mr. Emanuel said at the time. "But if Mayor Daley doesn't, one day I would like to run for mayor of the city of Chicago."
In a statement on Tuesday afternoon, Mr. Emanuel said that he was surprised by the announcement. He did not say whether he intended to run, but he does not have much time to make a decision, with the election set for Feb. 22, 2011.
"While Mayor Daley surprised me today with his decision to not run for reelection, I have never been surprised by his leadership, dedication and tireless work on behalf of the city and the people of Chicago," Mr. Emanuel said in a statement.
Mr. Emanuel, a former congressman from Chicago's North Side, has told friends that he planned to stay in the White House until at least next summer. But the news from Mr. Daley, which caught many Democrats by surprise, could change the calculation.
"The truth is, I have been thinking about this for the past several months," Mr. Daley told reporters in Chicago. "In the end, this is a personal decision, no more, no less."
Mr. Daley, who in 1989 followed in his father's footsteps to become mayor of Chicago, has been one of the more colorful and powerful mayors in the country. As he made his announcement on Tuesday, his wife, Maggie, stood by his side with the help of a crutch, the Chicago Tribune reported. She has been battling breast cancer for years.
"Simply put, it's time," Mr. Daley told reporters. "Time for me, it's time for Chicago to move on."
Mr. Daley, 68, will become the longest-serving mayor of Chicago on Dec. 26, 2010, surpassing the tenure of 21 years and eight months that his father, Richard J. Daley, recorded.
Mr. Emanuel, should he decide to run for mayor, would hardly have a clear path to the office. Several Chicago aldermen have been eying the office, in case Mr. Daley decided to step aside, and so have several other Democratic officials in Chicago, including the Cook County Assessor, Jim Houlihan, and the Cook County Sheriff, Tom Dart.
The primary is scheduled to take place next February, a timeline that does not allow Mr. Emanuel or other potential candidates much time to settle their plans. A new wave of senior advisers is expected to join the Obama administration after the November election, when the Democratic majority in Congress could shrink – or vanish.