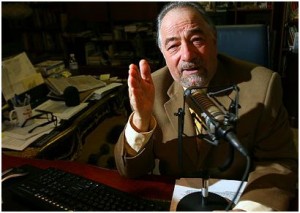 Talk-radio host Michael Savage has spoken out against Barack Obama. He says America can't survive another four years of Barack Obama. Not only that, he also calls upon Republican presidential contender Newt Gingrich offering him  $1 million to drop out of the race within 72 hours.
Savage says that while rival Mitt Romney is not entirely satisfying to conservatives, the former Massachusetts governor can beat Obama. Gingrich, on the other hand, according to Savage, is "unelectable."
"If Newt Gingrich really loves this country as much as he says he does, if he really wants what is best for America, he will set his ego aside, call me and accept my offer," Savage wrote on his website today.
"His continued candidacy spells nothing but ruin for conservatives, Republicans and all true American patriots," he continued. "One million dollars in exchange for preserving the nation, Newt. I say take the money … and don't run."
"While it's true that Romney is not as strong a conservative as many would like him to be, the most pressing issue before America today is defeating Barack Obama," he said. "And that is something Newt Gingrich cannot do."