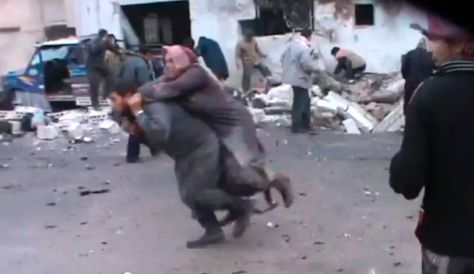 An air stirke kills dozens of innocent civilians trying to buy bread.
An air strike hit a Syrian bakery where a lot of people where queuing to purchase bread on Sunday.
This could be the deadliest air strike in Syria killing civilians.
The death toll is still unclear.
"There is no way to really know yet how many people were killed. When I got there, I could see piles of bodies all over the ground. There were women and children," said Samer al-Hamawi, an activist in the town of Halfaya. "There are also dozens of wounded people."
Rami Abdelrahman, of the Syrian Observatory for Human Rights, also said the death toll was still very unclear:
"From looking at the videos, I expect the death toll to be around or above 50, and not higher than 100. But for now I am keeping my estimate at dozens killed, until we have more information."
Hamawi, who spoke via Skype, uploaded a video of the scene that showed dozens of dust-coated bodies lined up near a pile of rubble beside a concrete building with blackened walls.
Screams could be heard in the video as some men rushed to the scene on motorcycles and other residents limped away. Dozens of dead bodies could be seen.
The authenticity of the video could not be immediately verified, as the government restricts access into Syria.