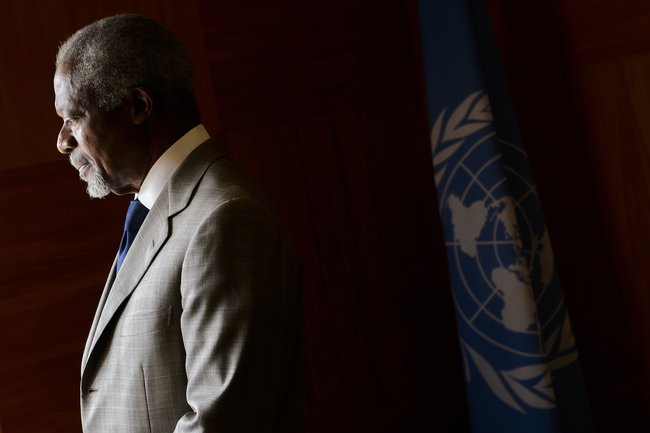 Kofi Annan who was the special peace envoy of the United Nations and the Arab League for Syria has resigned due to frustration on unable to make any progress on the Syrian conflict.
In an announcement tinged with bitterness and regret, Mr. Annan said at a hastily organized news conference at the United Nations' Geneva offices that he could no longer do the job, blaming his decision on what he described as Syrian government intransigence, increasing militance by Syrian rebels and the failure of a divided Security Council to rally forcefully behind his efforts.
Ban Ki-moon, the United Nations secretary general, said in a separate announcement that the search was on for a successor to Mr. Annan, who will serve until the end of August, when his mandate expires. But there was no word on who might replace Mr. Annan.
"I accepted this task, which some called 'Mission Impossible,' for I believed it was a sacred duty to do whatever was in my power to help the Syrian people find a peaceful solution to this bloody conflict," Mr. Annan told reporters in Geneva.
But "without serious, purposeful and united international pressure, including from the powers of the region, it is impossible for me, or anyone, to compel the Syrian government in the first place, and also the opposition, to take the steps necessary to begin a political process," he said.
He was especially critical of what he called the "disunity" of world powers. "At a time when we need — when the Syrian people desperately need action — there continues to be finger pointing and name calling in the Security Council."
It was no secret that Mr. Annan had grown increasingly frustrated over his failure to achieve even a basic cease-fire in the conflict, which began 17 months ago as a peaceful uprising against President Bashar al-Assad and has now escalated into civil war.
A Nobel Peace Prize winner and former United Nations secretary general, Mr. Annan, 74, is one of the world's most seasoned diplomats. He agreed in February to act as a special representative for both the United Nations and the Arab League to negotiate a peace plan in the Syrian conflict, and received unanimous backing from the Security Council.