Iran dares Israel to attack, because the retaliation would send the Jewish state to "the dustbin of history," a senior Revolutionary Guards commander said, according to the Fars news agency Monday.
"Our greatest wish is that they commit such a mistake," the chief of the Guards' aerospatial division, Amir-Ali Hadjizadeh, was quoted as saying.
"For some time there has been a hidden energy we hope to expend to consign the enemies of Islam forever to the dustbin of history," he said.
"Our ballistic (missile) capacity never ceases to grow," he added.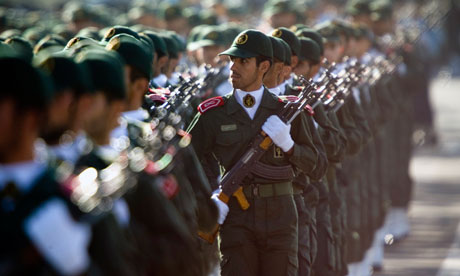 The comments were one of the most belligerent reactions yet by an Iranian official to speculation that Israel was considering launching air strikes on Iranian nuclear facilities.
The threat — raised recently in Israeli media reports, and by Israeli President Shimon Peres — comes amid rising international tensions over Iran's nuclear programme.
A November 8 report by the UN nuclear watchdog, the International Atomic Energy Agency, said intelligence strongly suggested Iran was researching nuclear weapons.
Iran has denied its nuclear programme has any military dimension.
Government officials have said they are willing to cooperate with the IAEA, while Iranian military officers have talked up their country's ability to counter-attack if strikes are launched.