In a horrific event, a train slammed into a school bus killing 50, a majority of them were children.
This is really very tragic and painful to read.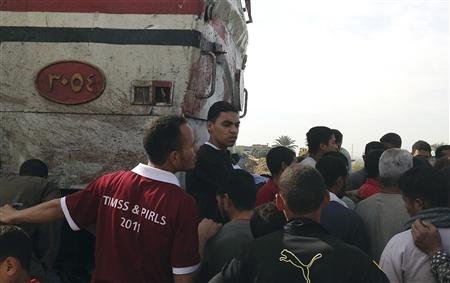 It happened when a school bus attempted to cross a railway crossing in Cairo, Egypt. The railway crossing was open at the time this accident happened which means it was no fault of the driver.
The train just slammed into the school bus breaking it into two killing all the children in the bus but 2. Blood was spattered everywhere, in the train engine, school bags, text books etc.,
God, this is really very very terrible.
The  Transport Minister Mohamed Rashad and the head of the railways authority resigned.
Prime Minister Hisham Kandil travelled to the area to review the situation. But devastated and angry people in one village from where the children had been picked up to travel to school said they would bar entry to any visiting officials.
"We won't accept any officials in the village. They only want to come to appear in the media," said Alaa Ahmed from al-Hawatka, where some children killed on the bus came from. They were travelling to a school near Manfalut, about 300 km (190 miles) south of Cairo.
Some victims' families protested at the crash site. Many other Egyptians across the nation were also shocked and angered.
"It is so shameful and a big disgrace to this government. All of its members, and not only one minister, should quit. That is what I know would happen in any decent country," said Mona Ahmed, a 60-year-old mother of three, in Cairo.
Now, starts the blame game. Nobody cares about the grief the parents are suffering right now. Typical world.