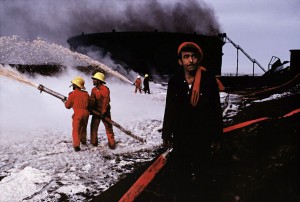 A wedding fire that took place in heart of kuwait kills atleast 41 women and children. The fire broke out in the time when Woman attended the wedding. Do remember, Kuwait treats differently the weddings.
The wedding ceremony  in the oil rich rich nation holds  separate parties for Men and Women. The fire broke out when the party was given to Women. Since children stay naturally with mother, the death toll is between them.
41 dead and atleast 76 injured due to fire.
The official Kuwait News Agency quotes the fire department chief, Brig. Gen. Jassem al-Mansouri, as saying 41 bodies have been recovered from the scene in Jahra, a tribal area west of Kuwait City. KUNA said 76 people have been hospitalized with burns.
Interior Ministry spokesman Col. Mohammed al-Saber said the cause of the fire has not been determined and authorities were having difficulty evacuating the injured because of relatives and onlookers flooding the scene.
He said Kuwait Army ambulances helped transport the injured to the country's hospitals.