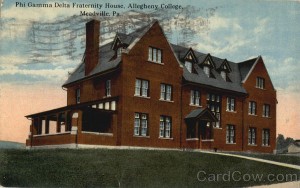 Its  sad to announce that the Penn state college student who went missing from Sunday early morning 3 am is found dead.
The FBI was involved  to find out the missing student along with whole of students,family and k 9 units, everyone was engaged in a  row to find  any possible trace that would lead to the whereabouts of  Joe Dado. He was last seen at Phi Gamma Delta party that was held among the students.
The search operation was on , when rumours spread out that Dado is death and his body was found near Mechanical room.  No one believed it and dreaded that it should be false.
Later, the news was confirmed by the police on Monday that Joe Dado is really dead , that  he fell 15 feet  down near the Mechanical room.
Police investigation for now doesnt suspect any foul play.  Some reports claim that he was drunk.The alcoholic consumption has brought an young life to death.
The penn state college is on shock at the moment. No one wants to do anything right now. Every one is in grief.
In one of the website , the authour has added " To lose a penn state person whether you know him or not, is like you lose a family."
This shows how deeply  people are affected by the news of the passing of the college student.
If you have been through such situation whether your fellow friend or family member is drunk call  911 right away for help. Who knows what we might face if not  treated well.