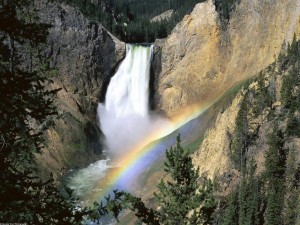 A major oil leak has been occurred near the Yellowstone National Park, that has now caused a serious threat for the aquatic life in the region.
Yellowstone Park, a major tourist attraction spot that is  famous worldwide, is one of the most visited place by a  US family.
The river nearby is no longer safe, for atleast some time, may be years, as it has been affected by an Oil leak from the nearby ExxonMobil pipe.
Hey, isnt it the home for Yogi Bear? Poor him. He will face fish shortage now

Meanwhile, ExxonMobil spokeswoman Pam Malek told AP news agency an estimated 750 to 1,000 barrels of oil had leaked from the pipe for about a half-hour before it was shut down.
Authorities are Concerned
"We recognise the seriousness of this incident and are working hard to address it," the company said in a statement.
"Our principal focus is on protecting the safety and health of the public and our employees," it added.
The county's director of disaster and emergency services, Duane Winslow said the oil was dissipating as it moved downstream.
"We're just kind of waiting for it to move on down while Exxon is trying to figure out how to corral this monster," Mr Winslow said.
There are fears that fish will suffer because of the accident.
"If fish get oil on them, if they break the surface and get oil on them, it tends to plug up their gills and it often is fatal," said Bob Gobson, of the Billings Fish, Wildlife and Parks Program.