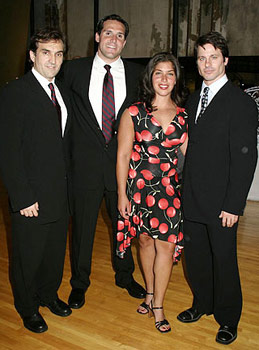 Celebrity trainer Pat Manocchia is a sensation in New York City's fitness industry.
For starters, one of his most famous clients was the Material Girl.
"I trained Madonna for a long time, like eight years, nine years," he tells Sun Media in an exclusive interview. "That was a long time ago, though."
Manocchia — a former collegiate hockey player with more than 20 years of personal training under his belt — also worked with Julia Roberts for a couple years in the 1990s. Then he became the Pretty Woman's boyfriend for several months in 1996.
Now in his late 40s, Manocchia is the head honcho at La Palestra Center for Preventative Medicine on Manhattan's posh upper West Side.
A basic membership at the hybrid medical-fitness facility, a stone's throw from Central Park, will set you back about $3,600 a year. Toss in personal training fees and you're looking at $8,000 annually.
Confidentiality agreements keep Manocchia from dishing on his well-heeled clients.
However, among his prosperous patrons that are publicly known are Liam Neeson, Natasha Richardson, Kelly Klein, Joan Lunden and John McEnroe. He also trained the late JFK Jr., a close friend of his.
"The only guy I can tell you that we work with because he's yapping all over the place is John McEnroe," Manocchia says.
The 50-year-old tennis legend, remembered fondly for his on-court antics, has continued his winning ways on the Senior Tour.
"He's a great example of what happens when you commit yourself to something and you do it the right way," his trainer says. "All the talent in the world is not going to help anybody if they don't put the work in. And he's religiously consistent and he works hard."
Manocchia, a fitness expert for ABC's Good Morning America, is no slouch himself.
The trainer to the stars, a healthy 185 pounds at five-foot-10, lifts weights and runs up to four times a week, does flexibility and core work every day, and plays hockey in the winter and softball in the summer.
"I take pretty good care of myself. And fortunately I'm in a facility where I'm able to do that," says the author of Anatomy of Exercise: A Trainer's Inside Guide to Your Workout, which hit bookshelves earlier this year.
"I'm still pretty strong. For one rep, I can still probably bench 300 pounds. If I decided to really focus on it, I could probably go a little higher. But there's no real point to doing that now."
Whether he's training himself or a client, Manocchia likes to "mix up the stimulus."
He changes his regimen every eight to 12 weeks. Each phase focuses on a single aspect, such as strength or aerobic capacity. And different phases call for different equipment.
Manocchia uses everything from free weights and kettlebells to climbing ropes.
"Variety is the key," he explains. "Without doing that your body stagnates very quickly."
Manocchia also relishes physical challenges. He ran 10 marathons between the early 1990s and 2001, and has climbed Mount Kilimanjaro four times.
But the father of two children admits he's no Spartan in the kitchen.
"I'm not going to crucify somebody for having a Big Mac," he says. "You can't eat perfectly every single meal. It just doesn't work like that. The objective is to do the best you can and make smart choices. And don't beat yourself up if you don't make a smart choice."
In other words, perfection is simply unattainable. Even for a fitness demigod.
Pat's tips:
1) Train appropriately for what you want to do. You need to understand what that is and then you need to do it the right way.
2) You've got to eat the right stuff. If you don't eat the right stuff, you don't have the right fuel and it just doesn't work.
3) Rest. People think more is better. More is not better. I don't care who you are, what kind of training regimen you have or how good your diet is, if you don't rest properly, you will not become fitter. In fact, you're on the road to an injury and your training will diminish.
Source: Edmonton Sun