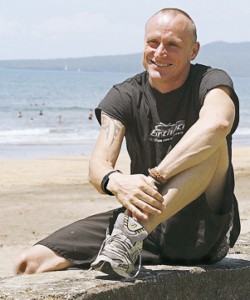 The Green Party is celebrating news that Pete Bethune is to come home.
"Pete Bethune is a brave Kiwi who protected whales when his Government would not and we look forward to his return to NZ," Dr Russel Norman, Green Party co-leader said today.
Pete has been on trial in Japan for boarding a whaling vessel and has was today given a suspended sentence of two years.
"Pete is a hero to many New Zealanders who are opposed to the Japanese Government's whaling regime. Were it not for his activism many more whales would have been slaughtered this year," Dr Norman said.
Pete Bethune's boat the Ady Gil was rammed by a Japanese whaling vessel in January this year. The Maritime New Zealand Investigation into the ramming is still floundering in secret over seven months later. Pete boarded the whaling vessel to make a citizen's arrest of the captain under the New Zealand Maritime Crimes Act 1999.
"The Key Government's lethargic attitude to illegal whaling is epitomised by this lack of concern for Pete. Not only has the New Zealand Government spent years not enforcing the Moratorium on Commercial Whaling and the Southern Ocean Whale Sanctuary, but it has left the Kiwi activists who do so high and dry by not pursuing the Maritime New Zealand Investigation," Dr Norman said today.
"If New Zealand stood by its traditional anti-whaling allies and took a case to the International Court of Justice for an immediate injunction on whaling in the Southern Ocean Sanctuary, we could have a result as early as next year. With no whaling in the sanctuary, there will be no whale wars with activists.
"For as long as the Government fails to take action to stop whaling in the Southern Ocean Sanctuary, there will be activists saving the whales. John Key needs to step up and protect the whales," Dr Norman said today.