Renowned American Poet Maya Angelou died at her home in Winston-Salem, North Carolina on Wednesday. She was 86 years old.
Apart from being a Poet, she was a fabulous writer, activities and more importantly loved by all.
Her son, Guy B Johnson, confirmed the news in a statement. He said: "Her family is extremely grateful that her ascension was not belabored by a loss of acuity or comprehension.
"She lived a life as a teacher, activist, artist and human being. She was a warrior for equality, tolerance and peace. The family is appreciative of the time we had with her and we know that she is looking down upon us with love."
Johnson said Angelou "passed quietly in her home" sometime before 8am on Wednesday.
Bill Clinton, at whose inauguration Angelou read her On the Pulse of the Morning, said in a statement: America has lost a national treasure, and Hillary and I a beloved friend."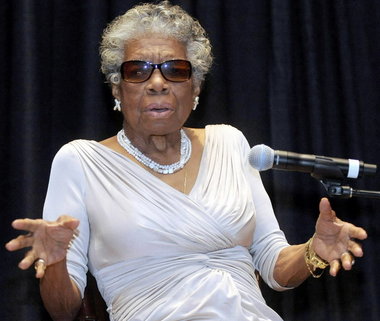 Angelou's failing health was reported as recently as Tuesday, when she canceled an appearance honoring her with a Beacon of Life Award because of "health reasons". The ceremony was part of the 2014 MLB Beacon Award Luncheon, in Houston, Texas, part of Major League Baseball's Civil Rights Games.
Last month, forced to cancel an appearance at a library in Arkansas, she wrote: "An unexpected ailment put me into the hospital. I will be getting better and the time will come when I can receive another invitation from my state and you will recognize me for I shall be the tall Black lady smiling. I ask you to please keep me in your thoughts, in your conversation and in your prayers."
I leave you with Poet Maya Angelou final message to the mankind in the twitter,
"Listen to yourself and in that quietude you might hear the voice of God."