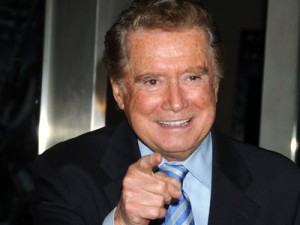 Regis Philbin,aged 80 years, retires from morning television on Friday causing great emotions on the crowds and his fans.
Philbin, who took television as a career 28 years ago, has logged more than 17,000 hours. He gained prime-time fame as host of "Who Wants to Be a Millionaire" a decade ago. But his enduring impact was as a morning show host, and his way of weaving something from nothing, turning stories about a dinner out on the town into compelling viewing.
"I'll always remember spending the mornings with all of you," the veteran show-biz personality said, ending his final appearance as host of "Live! With Regis and Kelly."
Philbin was dry-eyed, but co-host Kelly Ripa fought tears as she recalled how terrified she was on her first day as Philbin's partner and how he put her at ease.
"You always want to make me feel like a million bucks, always," she said.
The show had opened with cameras following Philbin's walk from his dressing room to the stage, the final step knocking on Ripa's door and walking out with her. "I love you," she said quietly as the lights went up.
Philbin has been careful to say he's not retiring, and his immediate plans include a tour to promote his new book, "How I Got This Way."
Philbin's parting gifts were a key and a plaque. New York City Mayor Michael Bloomberg appeared to thank Philbin for making the city a big part of his show, and offered a symbolic key.
"I wanted this to be a show where people would feel better about themselves, to look at life in a different way, a funnier way," Philbin said