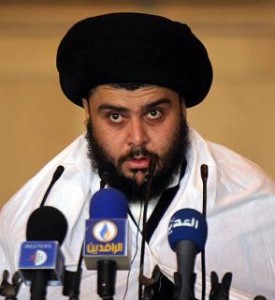 Iraqi Shia cleric Muqtada al-Sadr urged Iraqis Saturday to resist the US presence in their country peacefully and without resorting to weapons.
'We are still fighters. Resistance will not stop because our aim is to force the occupiers out,' al-Sadr told thousands of his supporters in the Najaf, 160 km south of Baghdad.
'Not everyone who takes up arms is a fighter, we want cultural resistance. Rejecting the occupier with our hearts is also resistance,' he said.
Al-Sadr was giving his first speech since returning to Iraq Wednesday after more than three years in Iran. Sadrists say he went to Iran to pursue religious studies in the holy city of Qom.
The Shia leader called on his followers to give Iraq's new government a chance and said he 'will support the government if it acts to serve the people, achieve security and services'.
Al-Sadr and his followers, who have 40 seats in parliament, have given their support to Prime Minister Nuri al-Maliki after initially opposing him serving another term in office.
He has been a thorn in the side of US forces since the US-led 2003 invasion.
At-least someone is voicing against brutality. Lets wait and see even this guy is acting or really wanted a free Iraq.