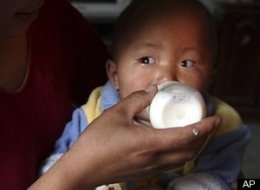 Abbott Laboratories Incl, the makers of Similac baby formula, is voluntarily recalling certain lot numbers of their powdered baby formula because there is a 'remote possibility' that they may contain small insect parts and beetle larvae.
The beetles were found in the production area of one of their manufacturing facilities that makes Similac. Fortunately, unlike the recent egg recall and the dangers of Salmonella infections, there is not thought to be any immediate health risk from infants drinking this Similac baby formula that might be contaminated. Gastrointestinal symptoms, such as a stomach ache or refusal to eat, are possible symptoms of eating recalled formula.
The Similac recall includes certain lots of:
Similac powder product lines offered in plastic containers
Similac powder product lines offered in sizes such as 8-ounce, 12.4-ounce and 12.9-ounce cans
The Similac recall does not affect Similac ready-to-feed or concentrated baby formula or any specialty baby formulas, such Similac Expert Care Alimentum or Similac Expert Care Neosure. Up to 5 million Similac-brand powder baby formulas that were sold in the U.S., Puerto Rico, Guam and some Caribbean countries may be affected by the Similac recall though.
If you can get through to their web site, you can check which lot numbers of formula have been recalled at www.similac.com/recall or you can call Abbott's consumer hotline at (800) 986-8850. Recalled baby formula can be returned to Abbott. If you can't verify that your Similac baby formula hasn't been recalled and is safe, you might buy a new container of Similar powdered formula, as long as the store has removed all lots of recalled formula already, temporarily switch to ready-to-feed or concentrated Similac formula, or temporarily switch to another brand of formula.
Article Source: pediatrics.about.com