Afghan President Hamid Karzai made a very bold statement in an interview with Pakistan TV channel Geo. He said, "God forbid, If ever there is a war between Pakistan and America, Afghanistan will side with Pakistan,". Wonder how U.S is feeling to see two of its allies ready joining hands to fight-back if they are attacked.
I just don't understand why does the U.S always turn hostile to its allies in the east ? It happened with Iraq, Libya and now with Pakistan. Yes, they might be the "bad people" but why have friendship with "bad people" in the first place ? It is the most disguising characteristic of America. It is like doing everything together with a close friend, eating together, having sleepovers, hanging-out daily and then after a few months you get bored and rob him and stab him in the back before abandoning him forever.
I really hope U.S doesn't make the same mistake again. It should really try to work out the differences between Pakistan in political way.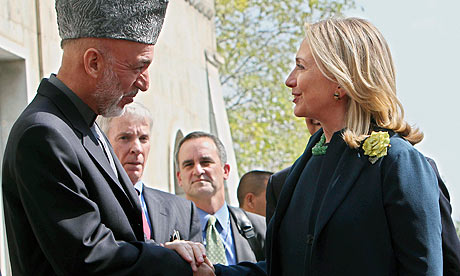 So coming back to the news, it seems Afghanistan wants to get back at America for destroying it. Of course, a direct attack is stupid. So, if U.S wants to attack Pakistan it would be a good time to get back at them, that is of course "official".
Pakistan and Afghanistan do have their own problems though. Recently, Afghan accused Pakistan for a suicide attack that killed it's former President Burhanuddin Rabbani.
But surprisingly, Afghan now wants to support Pakistan in case of a U.S invasion.
"If Pakistan is attacked and if the people of Pakistan needs Afghanistan's help, Afghanistan will be there with you."
Pressure on Islamabad has been mounting since U.S. special forces found and killed Osama bin Laden in May in a Pakistani garrison town, where he apparently had been living for years.
The secret bin Laden raid was the biggest blow to U.S.-Pakistan relations since Islamabad joined the U.S. "war on terror" after the September 11, 2001, attacks on the United States.
The TV channel, Geo, did not say when the interview was conducted.
Afghans have long been suspicious of Pakistan's intentions in their country and question its promise to help bring peace. Karzai repeated that concern in his remarks.
"Please brother, stop using all methods that hurt us and that are now hurting you.
"Let's engage from a different platform, a platform in which the two brothers only progress toward a better future in peace and harmony," he said.
Following the death of Rabbani, Karzai said he would cease attempting to reach out to the Afghan Taliban and instead negotiate directly with Pakistan, saying its military and intelligence services could influence the militants to make peace.