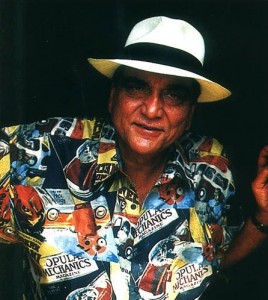 Actor Ravinder Kapoor, known as Goga Kapoor  passed away on Thursday morning. He was a veteran in Bollywood cinemas and probably the best villain in the film history.
His death is probably due to prolonged illness. He died on March 3,2011 in Mumbai, India at the age of 70.
Actor Gajendra Chauhan said, " He was ailing for nearly six months. It was a natural death. He leaves behind his wife and three daughters. His youngest daughter Payal is an actor. He was one of the most active committee member of Cine Artistes Association."
Goga started his career by working in English plays including one with Amitabh Bachchan while the latter got a break in films earlier, the Goga got his first break with Jwala in 1971. He acted in over 120 films.
He is mostly remembered as Dinkar Rao in Agneepath film and as the Don in Kabhi Haan Kabhi Naa. His other notable works for which he is remembered include that in Qayamat Se Qayamat Tak and in Run.