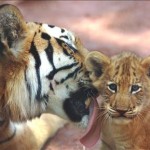 A female tiger dies  mysteriously at Pipalparao range in Terai central forest division of Uttarakhand on Saturday. The tigress was 6 year old according to the forest officials. It is strange but before its dead, forest officials were present at the scene. They report that  the tigress was sitting near  a pond around 9 am and died later.
The forest officials refused to comment future on this situation.Dr Parag Madhukar Dhakate, division forest officer, Pantnagar, "I am not sure of the reasons behind the tigress's death. The postmortem report will confirm the reasons. The forest employees were present on the spot when the tigress died."
One of the other official reckons that, the tigress might be poisoned. But nothing is clear as the reports are not confirmed on the dead of the tigress.