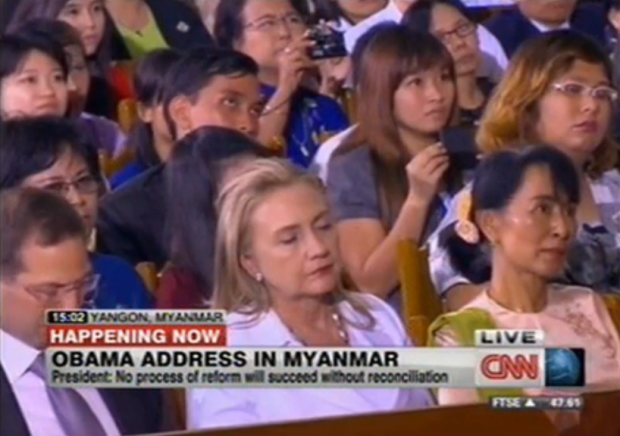 Secretary of State Hillary Clinton is making headlines for falling asleep during President Obama's historic speech in Myanmar.
That isn't a very nice thing to do, especially when the President is trying to make a point.
Well, what can we say, when a ladys got to sleep, shes got to sleep.
We really can't blame her for Obama being so boring, which he is not.
Proof? We got it!
MSN is really on her side. "When you're seriously jet-lagged, you reach a point when no amount of coffee or Red Bull can help, and Hillary Clinton looked like she hit that wall smack in the middle of President Obama's speech in Myanmar on Monday," MSN reported.
If Clinton falls asleep during speeches on a regular basis moving forward, there would be cause for concern. However, it does seem obvious that she was just really tired after traveling half way around the world. Of course many people who don't support Obama are having a field day with this video, many making jokes about Clinton's mid-speech snooze.