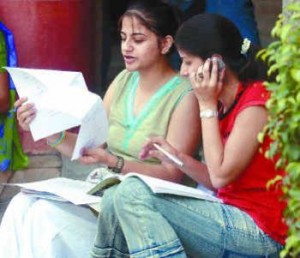 A tense situation among the girls of Kanpur University and its affiliated college is seen lately. This is due to the ban of  jeans  in the college campus . This is said to be a important dress code standard to be followed in the campus by the girls.
Now what prompted  the Kanpur University to take this decision?
Its  happens presently that  Eve teasing is the regular activity of College. Few of the girls are sensitive to it while the other let it go as fun. Now the problem  starts with sensitive girls who broke out emotionally and few go beyond par line to suicide. Sometimes Nastier incidents took place where the teasers go beyond limit and abuse the girls. Worst part of college is eve-teasing, having fun is ok with class mates but as said earlier few go beyond it. As incidents go beyond limits, number in Complaints increases which led the University Authority left with no choice but to ban the Jeans.
The girls feel it in different sense, they believe that their basic freedom is being taken away from them.
One of the girl Trisha says that "The dress code which has been implemented in the colleges is totally wrong. We are not wearing anything wrong. Moreover, we don't belong to any primary school who need to be told what to wear and what not to. In addition to this, there is a ban on the mobile phones which I think is also totally wrong if we do not have mobiles with us how will be we able to inform our parents about our whereabouts?," .
The District Magistrate of Kanpur Anil Kumar Sagarhas welcomed the decision saying, "The universities have implemented this decision. It is right that there should be a dress code in the schools and colleges and if the universities think that by implementing this step discipline in the colleges will improve, we welcome this decision," said , .
Though this decision is welcomed by parents and higher officials, it has increased a rage of anger among few, especially teenage girls