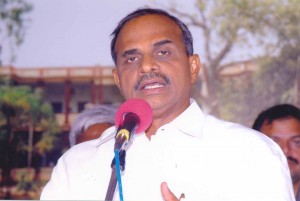 The death of YSR, former Andhra's Chief Minister who died recently in a helicopter crash is gaining a lot of popularity now. Why ? Well someone in Russia decided to hatch up a conspiracy. A Russian web magazine published a theory that the Ambanis of Reliance Industries could be involved in the death of YSR.
Reason ? Well it looks like YSR had stressed that the gas find by RIL in the Krishna-Godavari basin was a national asset and the Ambani brothers, including their mother Kokilaben, had no right to distribute it between them.
So ? I don't get it, why should Ambani kill YSR for this ? Well I think I must be a member in the Angry Mobs that are attacking Reliance retail outlets to know that.
Reliance's shops are being attacked all over Andhra after this report was telecast-ed by a local television.
As the report was immediately picked up by other television channels, people fanned out across the state and vented their anger on the Reliance Retail outlets. Congress activists have also called for a bandh in several parts of the state on Friday.
The government had asked the Central Bureau Investigation (CBI) to probe the circumstances leading to the death of Reddy. The CBI is yet to conclude its investigations.
Looks like things are gonna get worse for Ambanis in Andhra. For now all the angry mobs are getting some rest.