The world's most wanted terrorist has been killed by U.S forces in a join military operation with Pakistan's ISI. U.S has for long used Osama as an excuse to invade foreign lands and kill millions of innocent people.
Osama bin Laden — the longtime leader of al Qaeda — was killed by U.S. forces in a mansion about 100 kilometers, or 62 miles, north of the Pakistani capital of Islamabad along with other family members, a senior U.S. official said.
Bin Laden resisted the assault and was killed in a firefight, senior administration officials said.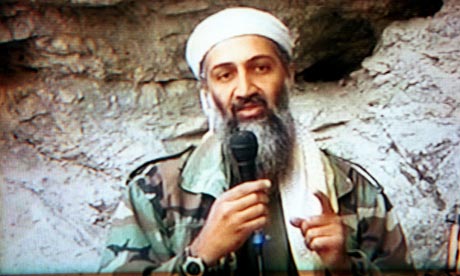 The Pakistani intelligence official said he did not know who fired the shot that actually killed the terror mastermind.
Three other men were also killed in raid, as was a woman who was being used as a human shield, senior administration officials said.
The U.S. team was at the compound for about 40 minutes, the officials said. There were no casualties on the American side, although a U.S. helicopter crashed during the raid due to mechanical problems. The helicopter was then destroyed for security reasons, senior administration officials said.
A senior administration official told reporters that Obama's administration did not share intelligence gathered beforehand with any other country — including Pakistan — for security reasons.
The official said only a small group of people inside the U.S. government knew about this operation ahead of time. Another official said a "small U.S. team" was involved in the operation; but the official would not confirm any U.S. military involvement.
However, a senior defense official said U.S. Navy SEALs were involved.