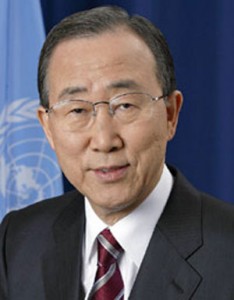 U.N. Secretary-General Ban Ki-moon said on Wednesday he is willing to visit North Korea to defuse tensions over the communist country's nuclear and ballistic missile programs.
"Whatever I can do as the secretary-general I am willing to do, including my own visit to Pyongyang at this time," Ban told a news conference.
"I need to find out when would be an appropriate timing for me to visit. I am not able to give you any answer at this time," said Ban, who was South Korea's foreign minister before becoming U.N. chief in 2007.
In the last two months North Korea has conducted its second nuclear test, test-fired seven ballistic missiles and boycotted six-party talks on ending its nuclear weapons program in exchange for economic, political and diplomatic benefits.
Those talks include the two Koreas, China, Russia, the United States and Japan.
Ban said that while he still supported those talks, "if necessary there should be some other forms of dialogue."
The U.N. chief welcomed what he said was North Korea's willingness to engage in direct dialogue with the United States. "That I would like to support and welcome," he said.
Since Ban moved to the United Nations, there has been speculation he might visit North Korea, but the North has not said publicly it would welcome him.
The U.N. Security Council angered North Korea by imposing sanctions this year on 13 entities and individuals involved in nuclear and missile work in the reclusive state.
Ban also said he had made two previously undisclosed appeals to North Korea to release two U.S. journalists it has held since March.
Laura Ling and Euna Lee of the U.S. media group Current TV were arrested near the China-North Korea border, convicted of "great crimes" and sentenced to 12 years hard labor.
"On two occasions I have conveyed my strong wish and appeal even to the DPRK (North Korea) authorities that they should look at this issue and release them, even on humanitarian grounds," Ban said, declining to elaborate.
This post credits goes to Yahoo