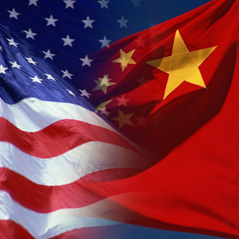 The top U.S. military officer began a visit to Beijing aimed at improving chilly military relations with an appeal Sunday for a peaceful settlement amid tensions in the disputed South China Sea.
The visit by Adm. Mike Mullen, chairman of the Joint Chiefs of Staff, is the first of its kind in four years. The two governments are trying to improve military-to-military ties after setbacks over U.S. arms sales to Taiwan, cyberattacks traced to China and concern about Beijing's military buildup.
Speaking to reporters ahead of meetings with Chinese officials, Mullen said that sound ties between what he called the two "Pacific powers" are vital.
"Frankly, I think we need to work a lot harder on strategic trust and transparency," Mullen said.