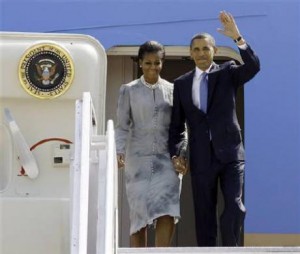 President Obama who is presently in India has presented strong words towards India and Indians in order to grow the relationship between India and US
Obama said its harsh to blame Indians for loss of  jobs in America contradicting his earlier statement where he asked American kids to work hard or else India will sweep everything.
Anyhow, lets come back to the Obama's visit of India.
President Obama has struck a $10 billion deal with India that will lead them to develop 50,000 jobs in America. A real good motive from American President and we must appreciate it.
But its hard to think $10 billion dollar deal could just fetch 50,000 jobs??? i dont get it . If you readers could understand the deal then update me through comments.
Also,In his statement Obama said that US did not consider India only as an emerging power. 'We believe that India has already risen,'.
Obama, has chosen to stay at the Taj Mahal Palace and Tower Hotel as a tribute to victims of the 26/11 terror attack, adding he was struck by the resilience of the Indian people.