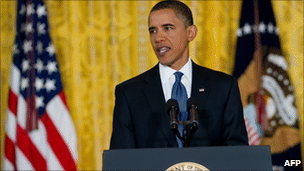 Progress in pulling the American economy out of recession has been "painfully slow", US President Barack Obama has said.
"The hole the recession left was huge and progress has been painfully slow," he told a White House news conference.
Mr Obama has made three speeches on the economy this week, as it looms as the major issue for the US mid-term polls.
His Democratic Party faces a stiff test from Republicans in November amid the sluggish US economic recovery.
'What have you done?'
"For all the progress we've made, we're not there yet. And that means people are frustrated and why people are angry," Mr Obama said, in his first formal news conference since May.
"Because I am president, and the Democrats have control the House and Senate, it's understandable that people are saying, 'What have you done?'"
But Mr Obama again called on Republicans to drop opposition to a bill to help small businesses when Congress returns next week from its summer break.
He accused Republicans of holding up the bill in order to keep a political victory from the Democrats ahead of the elections.
The US economic recovery has slowed in recent months. Last Friday, the labour department said the economy lost 54,000 jobs in July, with unemployment rising to 9.6%.
Mr Obama has said Democratic economic proposals, including a $787bn (£509.3bn) stimulus package the Democrats passed shortly after he assumed office, turned the country around from recession.
On Friday, he said that the Republican party wanted to reinstate economic policies that led the country into economic disaster.
"If the election is about the policies that are going to move us forward versus the policies that will get us back into a mess, then I think the Democrats will do very well" in November.