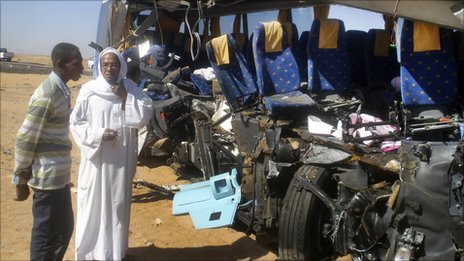 Eight American tourists died and 21 were injured when their bus hit a stationary lorry in southern Egypt, say media and police.
The crash happened early on Sunday as the bus was travelling from Aswan to the ancient temple site of Abu Simbel, Egyptian news agency Mena reported.
The bus driver and a tour guide were also hurt.
The injured were taken to a military hospital where they were treated for fractures and cuts, Mena said.
Accident Information:
The accident reportedly happened around dawn, shortly after a three-coach convoy had set off on the 115-mile (185km) journey from Aswan to Abu Simbel.
One of the coaches struck a lorry laden with sand which had broken down and was parked at the side of the road.
Six of the dead were women, reported Mena and a police official.
Four tourists were in critical condition, a police official said according to AFP news agency.
The injured were taken to a military hospital in Aswan. Some are now reported to have been airlifted to a hospital in Cairo that often treats injured tourists.
Passengers inside the other two coaches were unharmed.
Road accidents are common in Egypt due to poor roads and lax enforcement of traffic regulations. An estimated 8,000 people die in car accidents each year in the country.
Source: BBC News