US unemployment rate has been continuously falling down as per authorities. From 8.9% this feb, it has gone down to 8.8% last month that is March 2011. However, it is unfortunate to report that most job seekers have been pushed to elect the low paying jobs for their livelihood.
According to the US Department of Labor, Employers created 216,000 jobs in March, higher than market expectations.
Most of the new jobs were created in the private sector, in factories, shops and health care, as well as in education and several professional and financial services.
David Sloan of IFR Economics said: "This [the jobs report] suggests the recovery is continuing."
The new private sector jobs offset job losses in the public sector, mainly resulting from cuts by local government.
"The numbers are obviously good and one can hope that we will continue to see the market rise in continuing months," said Bernard Baumohl, managing director and chief global economist of Economic Outlook Group.
If employers keep on creating jobs at this pace, as many economists expect, there will be a further 2.5 million new jobs in the US by the end of the year.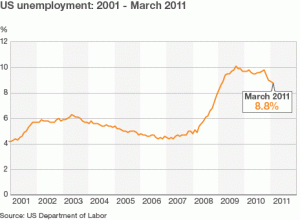 "The steep decline in the jobless rate and the solid employment growth in recent months are encouraging," said the chairman of the Council of Economic Advisers, Austan Goolsbee, in a post on the White House blog.
That will do little, however, to alleviate widespread concerns that the economic recovery in the US is failing to create enough jobs to make up for the 7.5 million lost during the recession.
"As long as millions of people are looking for jobs, there is still considerable work to do to replace the jobs lost in the downturn," Mr Goolsbee acknowledged.
Are you an American? Whats your stand in this whole Unemployment  falling report?