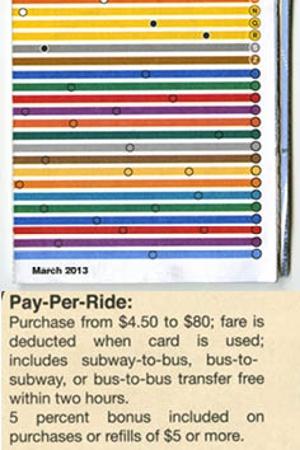 A $250,000 subway typo has created a major problem for the New York transit authority today. They are in damage control mode, trying to figure out the loss this simple type has created.
On March 9th, the New York Post published that all the brand new signs had to be removed as they were showing the wrong fare amounts. But then it was realized that it was not the signs but the maps with the wrong fares.
A March 2013 map obtained by The Post mistakenly lists the minimum price for a pay-per-ride card as $4.50, the old rate. The new minimum is $5. In both instances, the price covers the cost of two fares.
MTA has literally pulled up its pants and stopped distributing the maps.
But guess what, sources in Transit Workers Union Local 100 estimated 80,000 bad maps were printed at a cost up to $250,000.
"They're very embarrassed about this. They were frantically calling the booths trying to get these maps back," a transit source said. Apparently the Transit Workers Union Local 100 made the mistake, and printed over 80,000 maps with the wrong information on them.
The $250,000 subway typo won't be rectified until later this week. According to the report, new maps won't be distributed until March 15. Many people have the maps containing the wrong information and they may get a surprise when they learn that the fares listed are incorrect. Most of the people involved are not happy with the mix up.
The MTA conceded it distributed at least two boxes of bad maps to commuters, but said most were pulled from station booths before they got out.
"They weren't coming out with a new map because they were changing the map. They were coming out with a new map because they were changing the price. That was the sole purpose. And they couldn't even get that right," said Paul Flores, an MTA station agent and union leader (via the NY Post).