A 3-year-old from is back with his parents after he knocked on a stranger's door in the middle of the night following the hijacking of his father's car at a Colorado Springs, Colo., convenience store with him in the back seat.
"Help me, I'm cold," the toddler told Traci Gilbert, who answered the door.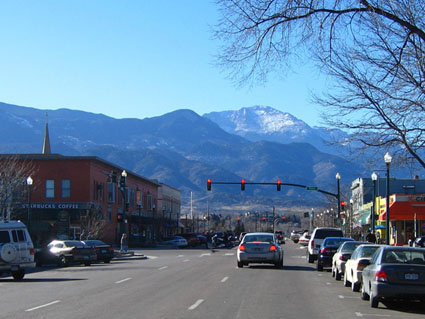 She said heard her doorbell ring about 2:15 a.m. Sunday and got up to check. Gilbert looked through the peephole and didn't see anyone, so she opened her door. Outside, she found the 3-year-old covered in snow and sleet, wearing nighttime diapers and a thin jacket.
"He wasn't crying. He never shed a single tear the whole time. That boy is a hero to me," Gilbert said.
Gilbert said Monday she is still amazed that the toddler made it up 14 slick steps to her front door on the second floor of a duplex, carrying a plastic bag that held a container of soy milk, a Sippy cup, two diapers, wipes and pajama bottoms.
She believes the car thief picked her home because it was near the store where the car was stolen. The temperature was in the 30s and the weather was alternating between sleet and snow.
"He didn't even wait until the child was safe inside," Gilbert said, her voice shaking with anger.
The father, Anthony Pettiford, said Monday he was headed home from a family gathering when he stopped to buy some gum. He was chatting with friends next to his car when someone jumped in the driver's seat and took off. Pettiford chased the car down the street while his friends chased the vehicle for about 10 blocks before losing it. The friends said the car thief must have turned back to drop the boy off three blocks from the store, then left the child to fend for himself.
Pettiford said he believes his son, whose name has not been released, was trying to return to the convenience store to find him when he showed up on the woman's doorstep.
"He knew what to do. He's a champ," Pettiford said.
Gilbert, a 53-year-old nurse at Memorial Hospital, said at first she was afraid that the boy's father had put him out in the cold because of a domestic argument or he had run away from home, but when she asked, the boy told her his parents were "happy."
Gilbert's adult son took the boy in his car to find his father. Gilbert's son waved down an officer searching for the boy and he was reunited with his father.
Barbara Miller, spokeswoman for the Colorado Springs Police Department, said Monday it is unlikely Pettiford will face charges because he was standing next to his vehicle when the child was abducted. The suspect and the car, a white 1995 Chrysler New Yorker, are still missing.
Source: Yahoo News.