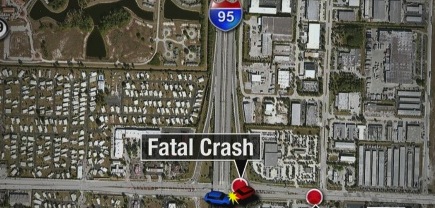 Five young adults have been killed in a two-vehicle crash on an interstate exit ramp in South Florida.
The Florida Highway Patrol reports that a Mercedes ran a red light as it exited Interstate 95 in Riviera Beach early Saturday and struck a Lexus.
"The Mercedes failed to stop for the traffic signal and T-boned the Lexus," FHP Lt. Tim Frith told the Florida Sun-Sentinel.com.
Frith says the Lexus rolled over and hit two trees. Several passengers were ejected.
Four of the occupants of the 1994 Lexus were pronounced dead at the scene. A fifth died at the hospital. The three females and two males were between the ages of 18 and 22.
Authorities identified Jason A. Mahlung, 21, and Shonteria Grimsley, 17 as two of the passengers killed, the Sun-Sential.com reported.
Frith says the 21-year-old driver of the Mercedes, identified as Jabari S. Kemp, was taken to St. Mary's Medical Center and was not cooperating with investigators.
The Associated Press contributed to this report.