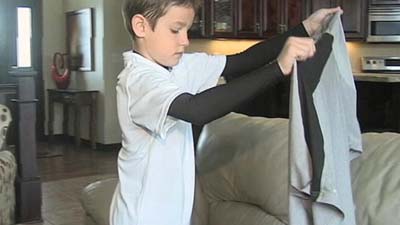 (ABC News)–A 7-year-old boy from Casselton, N.D., who lost his dad also lost his most prized possession — his father's shirt — on a March 27 Delta flight from Fargo to San Diego.
Cole Holzer's dad died two years ago when he fell hanging Christmas lights, ABC affiliate WDAY reported. The well-worn Nike shirt that goes with Cole everywhere was the one his dad, Bryan, was wearing when he died.
"Ever since he will lay out and spray his dad's cologne on it and cuddle up with it and sing the daddy song to go to bed," Tonya Holzer, Cole's mom, told the station.
But in the rush to leave the plane when it landed, the shirt was left behind. The family didn't realize it until they were driving away from the airport.
"I started to cry a little bit," Cole told the station.
A letter written to the airline by a family friend who was instrumental in the recovery of the shirt describes how Delta employees went above and beyond to get Cole's dad's shirt back, even digging through the garbage to find it. A copy of the letter was obtained by ABC News.
Kelly Cruchet's letter details the phone call to the Delta 800 number and how that employee called all over the San Diego airport looking for the shirt. The plane the Holzers had been on had just left San Diego for Minneapolis. Eventually, Cruchet got in touch with Delta's Lost & Found at the San Diego airport. Vicki Katseanes, another Delta employee, said she would check with the cleaning crew.
In the meantime, Cruchet sent out emails and posted on Facebook, hoping to find someone who would meet the plane in Minneapolis and see if the shirt was still onboard. Her request was seen by a Delta pilot, Mike McLean, who called her and said he would try to contact ground control and see if they could get in touch with the gate.
"I then got the heartbreaking call from Vicki that the cleaning crew never found it, I thanked her and we ended the call," Cruchet's letter said. "A short time later she called back and said she had been in contact with Alfredo, a Delta ramp supervisor. They wanted to confirm their names to confirm their flight and rows and said they were going to start looking through garbage!"
Thirty minutes later, the call came: They found the daddy shirt.
Cole and his mom went back to the airport to meet Vicki and get the shirt. "They cried all the way back to the airport," the letter said. It was then they were able to start their family vacation.
So what does Delta have to say? Spokesperson Michael Thomas told ABC News, "Efforts made to reunite this very special shirt with this customer and his family is another fantastic example of Delta people going above and beyond for our customers and truly speaks to the culture of our dedicated employees."
"We all miss Bryan so much," Cruchet wrote, "and I so wish Cole had his daddy here to watch him play flag football and baseball and basketball and wrestling – but we all know he is watching them from up above (and as Cole tells my son and all his buddies, 'my dad plays basketball on team heaven!'). I want to thank all involved today for what they did for this little boy they had never met – as a friend stated, 'Delta allowed a daddy to still be there for his little boy'…even if he can't be with him on earth. You all went so far above and beyond and the statement I made to Vicki goes to all of you: YOU ARE MY FAVORITE PEOPLE I HAVE NEVER MET!"
Copyright 2013 by ABC News