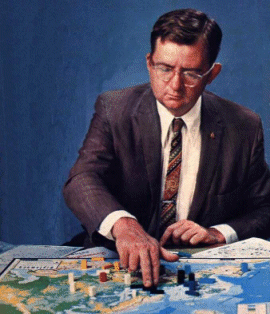 Allan Calhamer has died, he was 81. Allan Calhamer is the creator of the popular 1950s board game 'Diplomacy'.
Calhamer died Monday at a hospital in the western Chicago suburbs where he grew up, his daughter Selenne Calhamer-Boling said. He was 81.
"He was brilliant and iconoclastic and designed this game that's played around the world, and he's adored by nerds throughout the world," his daughter said by phone Saturday. "But at the end of the day he was a great dad. He was at all the T-ball games and all the screechy, horrible orchestra concerts and all the klutzy ballet recitals. I guess that's how I'll remember him."
Calhamer tested early versions of the game out on Harvard classmates before perfecting it. After its commercial release, Avalon Hill bought the rights and helped make it an international hit. The game is still for sale, and was re-released in 1999 with a colorful new map and metal pieces.
Calhamer said in a 2009 interview with Chicago magazine that reading the book recalled for him the atlas in his parents' attic.
"That brought everything together," Calhamer told the magazine. "I thought, 'What a board game that would make.'"
Since his death, emails have been pouring in to the family from "Diplomacy" fans around the world who wanted to convey how much the game meant to them, Calhamer-Boling said.
The moving messages were not what she expected.
"I always think of it as such an intellectual game because it's so strategic," she said. "But what I'm seeing over and over again in these emails is that the recurring theme is: 'I was a really really nerdy awkward kid who had trouble relating to people, but because 'Diplomacy' required interpersonal skills and required you to get people to do what you wanted them to do that's how I built my social skills.'"
Source: Thewashingtonpost