Mavanell "Mavy" Stoddard was surprised to find love again late in life. After her husband died, she moved back to her hometown of Tucson and rekindled a romance with her high school sweetheart. But now she finds herself a widow twice over.
Her new husband, Dorwan Stoddard, was one of the six people killed more than a week ago when a gunman opened fire at a meet-and-greet event for Arizona Congresswoman Gabrielle Giffords. Witnesses say the 76-year-old threw himself over his wife's body to protect her from the bullets, but was shot in the head himself. Mavy Stoddard, 75, was shot three times in the legs, and was in a wheelchair when she spoke at her husband's funeral on Sunday.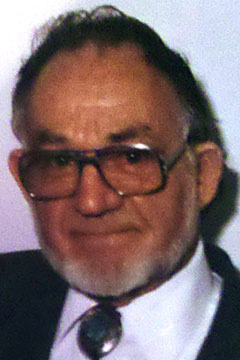 Dorwan Stoddard, 76, was killed in the Jan. 8 Tucson, Ariz., shooting rampage after he dove to the ground to cover and protect his wife.
"He made me a better person. He made me kinder. He made me know there are good men," she said, fighting back tears. Her husband's four sons stood beside her.
Then suddenly the elderly widow smiled. "He spoiled me rotten," she said, according to The Los Angeles Times. "And oh gosh, it was fun."
"He died for me," she continued, her voice stronger, "and I have to live for him."
As the crowd of mourners began to applaud, Stoddard left them with some final words. "I will survive," she said. "We will not let that gunman take our hopes."
The 22-year-old suspect, Jared Loughner, has been charged with murder. Mavy Stoddard is one of 13 people, including the Democratic congresswoman, Giffords, who survived with gunshot wounds. Giffords' condition was upgraded Sunday from critical to serious.
"Hang in there. Hang onto your loved ones. Keep kissing them and hugging them, because tomorrow they may not be there," Stoddard said.
Another funeral for Giffords' aide, Gabriel Zimmerman, also took place in Tucson on Sunday, attended by Giffords' husband Mark Kelly, who spoke publicly for the first time.
The congresswoman loved Zimmerman "like a younger brother," Kelly said, according to The New York Times. She was inspired by the 30-year-old's "idealism, his strength and his warmth," he said.
Sunday's funerals capped a week of tearful memorials for victims of the Tucson shooting. Just one more service remains to take place — that of Dorothy Morris, 76, whose husband George is also said to have tried to shield his wife from the bullets. But unlike the Stoddards, he didn't succeed. George Morris survived but remains hospitalized with gunshot wounds, and has been unable to plan his wife's funeral.
Stoddard was remembered Sunday as a loving father, grandfather, retired construction worker and "Mr. Fix-It," his son Dale said at the service. "He was always helping someone, someone who was hurting, someone who needed some care or just a gallon of gasoline," Reuters quoted the son as saying. "Guys like my father are rare."
A Tucson native, Stoddard worked construction in Nevada and was married to his wife Arlene for 43 years. The couple had four children. After Arlene died in 1994, Stoddard moved back to his hometown and ran into his old sixth grade sweetheart, Mavy Terry, who had recently made the same move after her own husband died. They fell in love again and married.
"They loved each other," Katie Andrews, who has known Mavy since the seventh grade, told the local Tucson TV station KGUN-9. "Sometimes you have to go through a sorrow to really appreciate your second marriage. Second marriages are really special."
Andrews said Dorwan Stoddard was dedicated to Mavy and to his church, Mountain View Church of Christ, where he worked as a maintenance man for the past 15 years. The pastor, a good friend of his, wore a red shirt and cowboy boots — Stoddard's uniform of choice — in honor of his fallen friend during a eulogy there on Sunday. Pastor Mike Nowak called his friend by his nickname, "Dory."
"Dory had the spirit of an 18-year-old," Nowak said, according to the Arizona Daily Star. He joked about how he never expected Stoddard to die in a freak shooting, but thought he might fall off a ladder trying diligently to repair the church's roof.

"Before CNN ever heard the name Dorwan Stoddard, he was a hero," Nowak said, describing the media attention Stoddard's death has gotten, because of his valiant effort to save his wife's life. "I hope that his legacy is not only that he gave his life, but that you've heard about the other heroic acts he's done over the years."
Source : AOL NEWS