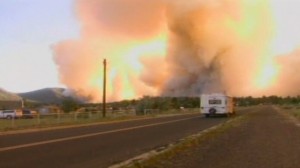 The Arizona Wild fire is not settling down as its burning out the region.
Hundreds of firefighters have been battling the blazes, the larger of which has burned close to 9,000 acres.
A man has been arrested for started up the smaller fire thanks to which the hell is witnessed in the region. This  was the small fire.
A second fire broke out on  Sunday , the  cause of the larger fire was unknown  but officials said it had been spread by strong winds up to 50mph (80km/h).
Low humidity and high temperatures have also contributed to the spread of the blaze, which broke out on Sunday.
"The fire is torching and crowning, with fire burning at the top of the tree canopies," Flagstaff city spokeswoman Stephanie Smith told the Arizona Republic newspaper.