Storm Beryl has now turned into a tropical storm as it is approaching the U.S. coast. Oh Yea, it is already planning to destroy your weekend plans for the Memorial Day. It has already canceled some events in southeastern U.S and has sent shoreline campers back to home.
Beryl was still well offshore, but officials in Georgia and Florida were already bracing for drenching rains and driving winds. Campers at Cumberland Island, which is reachable only by boat, were told to leave by 4:45 p.m. The island has a number of undeveloped beaches and forests popular with campers.
However, many people seemed determined to make the best of the soggy forecast.
At Greyfield Inn, a 19th-century mansion and the only private inn on Cumberland Island, the rooms were nearly full Sunday and everyone was planning to stay put through the wet weather, said Dawn Drake, who answered the phone at the inn's office on the Florida coast.
In Jacksonville, Fla., Sunday's jazz festival and Memorial Day ceremony were canceled. Workers are also out clearing tree limbs and debris that could be tossed about by the storm's winds, which had reached 65 mph (105 kph) Sunday. Winds had already knocked down tree limbs and power lines in parts of coastal Georgia, leaving hundreds without electricity.
But business was booming at Red Dog Surf Shop in New Smyrna Beach, where customers flocked to buy boards and wax in anticipation of the storm's high waves. Officials all along the coast warned of rip currents, waves and high tides — all of which can be dangerous but also tend to attract adventurous surfers. The waters had already become dangerous in South Carolina, where rescuers were searching for a missing swimmer.
In Jacksonville Beach, Fernando Sola said business was booming at his Happy Faces Ice Cream truck. A bus full of tourists from South Carolina had stopped to buy some ice cream and watch the storm waters churn.
"There are actually more people than on a normal day. It's working out great," said Sola, taking a few moments away from scooping ice cream to people lined up in front of his truck.
Steady, heavy winds kicked up sand across the area, forcing onlookers to shield themselves with towels.
Jessica Smith and Chester Jaheeb decided to brave the waters despite many warnings for people to stay out. Jaheeb, who was born in India but lives in Jacksonville, said he had never experienced a tropical storm before.
"We were at a certain part that started pulling us out, like the rip current, so we decided to come to shore," said Smith, 17.
Joe Murphy, a spokesman for the Ritz Carlton in Amelia Island, said he was not seeing a flood of checkouts or people trying to get off the island. Outdoor dining had been moved inside and the hotel set up movies and family game activities, but the hotel had no plans to board up or move patio furniture inside.
Beryl was centered about 110 miles (177 kilometers) east of Jacksonville, and about 120 miles (193 kilometers) southeast of Brunswick, Ga. Current forecasts have it making landfall late Sunday or early Monday, though tropical storm conditions with heavy rain and wind were to reach shore hours sooner.
Tropical storm warnings were in effect for the entire Georgia coastline, as well as parts of Florida and South Carolina. Once Beryl comes ashore, it was expected to continue dumping rain over parts of Florida and Georgia on Monday before slowly moving back out to sea.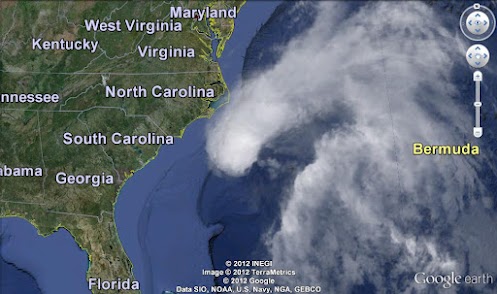 On Tybee Island, a barrier island not far from Savannah, water off the beaches was closed for swimming Sunday. Tybee Island fire Chief C.L. Sasser said winds of up to 42 mph were creating "horrendous water currents." Only people with flotation devices strapped or tethered to their bodies were being allowed into the water, and they were being cautioned to not venture in farther than knee deep.
"Even if you're standing in waist-deep water, the current can sweep you out quickly," he said.
His ocean rescue team pulled a total of 48 people from the water on Saturday, he said, including about 27 that were considered to be in life-threatening conditions. One man who was sucked under the water was rescued by friends and onlookers and was taken to the hospital in serious condition.
A band of showers soaked the beaches late Sunday morning, causing crowds to thin, Sasser said. With alternating rainy and sunny weather forecast throughout the day, he said he expected the crowds on the sands to ebb and flow.
In South Carolina, Janice Keith with the Myrtle Beach Area Convention and Visitors Bureau said the office hadn't fielded any calls from concerned tourists.
In Beaufort County, emergency management deputy director David Zeoli said officials were continuing to monitor the storm and encourage people to have a plan in case conditions get worse.
Zeoli said winds had kicked up in the area that includes Hilton Head Island, a popular golf and beach destination. "It's just a wet day here," he said.