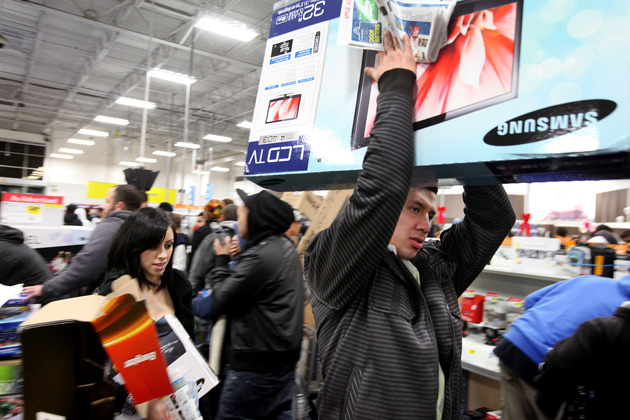 Black Friday is just around the corner and retail outlets want to have an extended Black Friday. Major retail outlets have decided to start the party on Thursday night itself!
They call it Grey Thursday!
Retail outlets such as Kmart, Toys R Us, Walmart and Sears will open their door for the Black Friday offers on Thursday night at 8 P.M, Target has planned to start the party an hour later at 9 P.M.
Black Friday will start officially at midnight for Best Buy, Sports Authority and Macy's.
Looks like it is going to be an all night shopping spree.
Don't miss out on it, you might end loosing the deals.
"It's traditionally been the day after Thanksgiving when the stores go into the black, where they make all their money. But that's not true anymore," retail expert Michelle Madhock said.
Luciana Pendleton pitched a tent outside a Deptford Township, N.J., Best Buy Monday fully equipped with all she needed to spend the next few days away from home so she could be first in line when the doors open.
"I am just happy I beat my competition. They pulled up here around 3 p.m., and we were already here so I was happy," she said Monday.
The hottest deals that are up for grabs this year include a 46-inch Samsung LED flat screen TV at Walmart with $200 off the original price. If that's not good enough, Sears has knocked $500 off the price of a 50-inch Toshiba flat screen. Target is offering the Nook Simple Touch at half price.