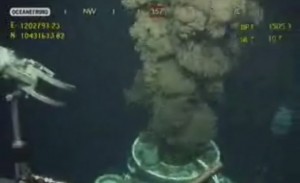 Man, finally they have managed to stop the oil leak that damaged the life of millions. The oil leak occurred this April along the gulf of Mexico and the authorities were stunned on the riddle of how to prevent it.
How did BP prevented Oil Leak?
The technique which they adopted is by putting a cap at the leaked part. Later, the oil leakage was stopped which gave the engineers a huge sign of relief.
Do you think thats it?
Nope, now comes the trouble! The engineers have decided to keep a vigil watch over the region for 24 hours . Do you know why? Its because the cap factor might increase the pressure in the well that might actually destroy the will and oil will begin to leak from other parts of the well.
So, if this happens, then the first priority that the engineers suggested is that they will remove the cap ASAP and allow the oil to leak again.
We could assume that the coast is clear for now.
"For the people living on the Gulf, I'm certainly not going to guess their emotions," BP vice president Kent Wells said. "I hope they're encouraged there's no oil going into the Gulf of Mexico. But we have to be careful. Depending on what the test shows us, we may need to open this well back up."
The blocking of  oil leak has brought about mixed response from the residents around the coast of gulf who are particularly depended on fishing.
"Finally!" said Renee Brown, a school guidance counselor visiting Pensacola Beach, Fla., from London, Ky. "Honestly, I'm surprised that they haven't been able to do something sooner, though."
On the other hand, few residents believe this is just an eye wash by BP to show that the situation is under control.
"I don't believe that. That's a lie. It's a (expletive) lie," said Stephon LaFrance, an oysterman in Louisiana's oil-stained Plaquemines Parish who has been out of work for weeks. "I don't believe they stopped that leak. BP's trying to make their self look good."
Mr. LaFrance surely has given an interesting point on the oil leak. Lets wait and watch how the incidents turn off the coming days.