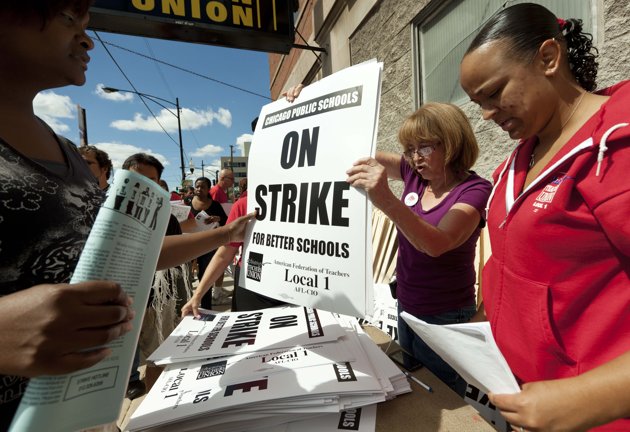 Chicago public school teachers will go on strike as the talks with the school district over compensations, health benefits and teacher evaluations have failed.
"We will be on the (picket) line," Chicago Teachers Union President Karen Lewis said after emerging from all-day talks with district negotiators.
"This is a difficult decision and one we hoped we could have avoided," she said. "We must do things differently in this city if we are to provide our students with the education they so rightfully deserve."
More than 26,000 teachers and support staff are expected to hit the picket lines first thing Monday, while the school district and parents carry out plans for keeping nearly 400,000 students safe and occupied while classes remain empty in the coming days in the nation's third largest school district.
Mayor Rahm Emanuel condemned the union's decision, calling the action "unnecessary" and "a strike by choice." He said the negotiations had come down primarily to two issues that he claimed could be resolved if the two sides kept talking, "given how close we are."
"Our kids don't deserve this," Emanuel said. "The kids of Chicago belong in the classroom."
The strike is the latest flashpoint in a very public and often contentious battle between the mayor and the union.