The Internal Revenue Service on Monday launched its annual outreach campaign aimed at helping the millions of Americans who earned $49,078 or less take advantage of the Earned Income Tax Credit.
The agency also is spreading the word about free preparation assistance.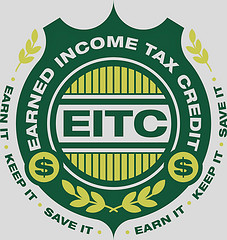 Although an estimated four out of five eligible workers and families are eligible for the EITC, one in five still miss out either because they don't claim it or don't file a tax return at all, according to the IRS.
Workers who earned $49,078 or less from wages, self-employment or farm income last year could receive larger refunds if they quality for the credit. That could mean up to $464 in ETIC for those without children and a maximum credit of up to $5,751 for those with three or more qualifying children, the IRS said.
Unlike most deductions and credits, the EITC is refundable. In other words, those who are eligible may get a refund from the IRS even if they owe no tax.
People can find out if they qualify by visiting IRS.gov and answering a few questions using the EITC Assistant. In tax year 2010, almost 26.8 million eligible workers and families received more than $59.5 billion in EITC. The average EITC per individual last year was $2,200.
To get the EITC, workers must file a tax return and specifically claim the credit, even if they are not required to file.
On another front, the IRS said that this year more than 12,000 free tax preparation sites will be available nationwide to help low- to moderate-income and elderly taxpayers.
To locate the nearest "IRS Volunteer Income Tax Assistance Program" call 1-800-906-9887. Taxpayers also can seek free assistance at 400 IRS Taxpayer Assistance Centers nationwide. Locations are listed atIRS.gov.
Source: Sltrib.com