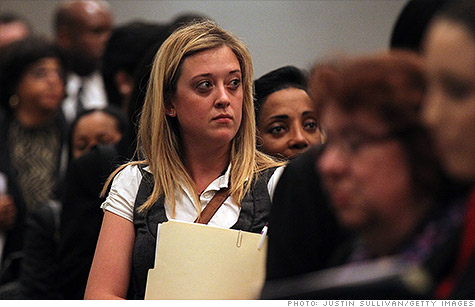 The unemployment rate is still to high for comfort but still it has come down to 7.8 percent and the ghastly economy manged to add 114,000 jobs in the last quarter.
This is the first time in four years that the unemployment rate has gone below 8 percent.
The Labor Department reported Friday that the unemployment rate fell to 7.8 percent in September, a decline of 0.3 percentage point and the lowest since January 2009.
A survey of households from which the jobless rate is derived showed 873,000 job gains last month, the most since June 1983. The drop in unemployment came even as Americans come back into the labor force to resume the hunt for work. The workforce had shrunk in the prior two months. The household survey is volatile, however.
It was the second last report before the November 6 election that pits Obama against Republican Mitt Romney.
Persistently poor labor market conditions led the Federal Reserve in September to announce a plan to buy $40 billion worth of mortgage-backed securities each month until it sees a sustained turnaround in employment.
The central bank, which also pledged to keep overnight lending rates near zero until at least mid-2015, hopes the purchases drive down long-term borrowing costs and spur the recovery.
The Fed's ultra-easy stance has started to free up credit, giving a lift to consumers, economists said. That, in turn, helped lift retail hiring in September.
Temporary help jobs, which are often seen as a harbinger for permanent hiring, fell 2,000 after being almost flat in August.
Manufacturing payrolls fell for a second straight month.
Construction employment rose 5,000, benefiting from the rise in home construction, as demand for housing rises against the backdrop of record low mortgage rates
Government payrolls rose 10,000 after increasing 45,000 in August. Average hourly earnings rose 7 cents last month, which could support spending.
Well, this sure will give President Barack Obama the boost to ensure his second term. But these reports are messed-up as it will only account people who are actively looking for job.