One of the world's most popular paintings, "The Scream", Edvard Munch's masterpiece has been sold for a record $120 Million at Sotheby's. This is now the record for the most expensive piece of art ever sold at an auction.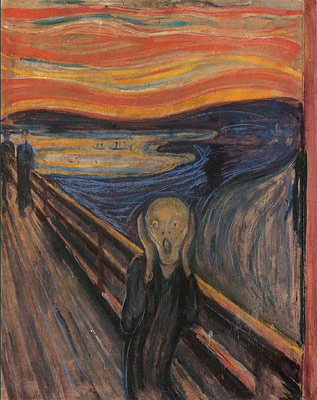 Sotheby's Impressionist and Modern art auction featured top works by Picasso, Dali and Miro, but Munch's vibrant work from 1895 was the star attraction in a salesroom packed with art collectors, dealers and media.
The vibrant pastel was conservatively estimated to sell for about $80 million, but two determined bidders competing via telephone emerged from an initial group of seven, driving the final price to $107 million, or $119,922,500 including commission, over the course of a nearly 15-minute bidding war.
The winning bid was taken by a Sotheby's executive, and the bidder was not identified.
One of four versions by the Scandinavian painter, sold by Norwegian businessman Petter Olsen, "The Scream" easily eclipsed the old auction record held by Picasso's "Nude, green leaves and bust," which sold for $106.5 million at Christie's two years ago.
The sales room at Sotheby's erupted in applause and cheering when the hammer came down. Several Sotheby's officials said the sale marked the high point of their careers.
"It's worth every penny that the collector paid," said Tobias Meyer, who served as auctioneer and called it "one of the great icons" of fine art.