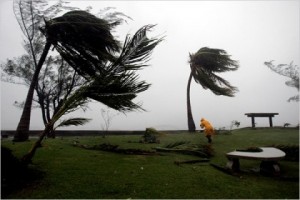 Hurricane Alex 2010 : Tropical storm Alex in the Gulf is gradually moving away from the US main land towards the Mexican Yucatan Peninsula, and reports say that forecasters have predicted that the storm may turn into a hurricane by today or tomorrow.
Even though there is a threat regarding the hurricane formation, there is some good news for the oil siphoning efforts in the Gulf of Mexico, as the storm is reportedly away from their path.
The US National Hurricane center stated that the intensity of the storm to transform into a hurricane is likely to take place within the next 48 hours. The Mexican government on the other hand, has closed down its chief ports Don Bocas and Cayo Arcas, due to the Hurricane Alex threat.
In the country of El Salvador, the rain that poured before the hurricane has made the rivers swell, and has resulted in two men being been swept away and declared dead. Forecasts had predicted that the rain before Alex's arrival would be around 4 to 8 inches, but in most of the isolated places and mountainous regions, the rain has been measured to be around 15 inches. Later in the day, forecasters have warned of flash flooding in the area.