The head of the International Monetary Fund, Dominique Strauss-Kahn, has been charged by New York police over an alleged sex attack on a hotel maid.
Mr Strauss-Kahn, 62, was taken off an Air France plane at JFK airport just minutes before it left for Paris.
Police say he faces three charges, including attempted rape. His lawyers say he denies the claims.
The married former French finance minister is also considered a possible Socialist candidate for the presidency.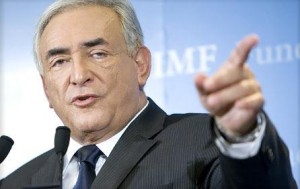 The BBC's Hugh Schofield, in Paris, says Mr Strauss-Kahn has been riding high in the polls and was seen as having a genuine chance of beating President Nicolas Sarkozy.
Martine Aubry, leader of France's Socialist Party, described news of his arrest as a "thunderbolt" which left her "astounded".
Mr Strauss-Kahn is expected to appear before a New York state court later on Sunday.
His lawyer, William Taylor, told Agence France-Presse news agency: "We saw him, he's doing OK. And we'll be in court with him later in the afternoon."
Correspondents say his detention is likely to complicate ongoing efforts to stabilise the finances of struggling eurozone member states.
In a brief statement posted online on Sunday, an IMF spokeswoman acknowledged Mr Strauss-Kahn's arrest and said the organisation would not comment on the case.
"The IMF remains fully functioning and operational," she added.
A spokesman for New York's Port Authority said they detained Mr Strauss-Kahn at JFK airport at the request of the New York Police Department (NYPD).
NYPD spokesman Paul Browne said Mr Strauss-Kahn had been charged with a criminal sexual act, attempted rape and unlawful imprisonment relating to an incident involving a 32-year-old woman.
Mr Browne said the allegations had been made by a 32-year-old woman who worked at the hotel, which has been identified as the Sofitel near Times Square. His accommodation there was described by the New York Times as a luxury suite costing $3,000 per night (£1,900).
"We received a call that a chambermaid in a hotel in midtown Manhattan had been sexually assaulted by the occupant of a luxury suite at that hotel, and that that individual had fled," Mr Browne told the BBC.
"The maid described being forcibly attacked, locked in the room and sexually assaulted," he said.
Speaking to Reuters, Mr Browne gave more details on the allegations against Mr Strauss-Kahn.
"She told detectives he came out of the bathroom naked, ran down a hallway to the [suite] foyer where she was, pulled her into a bedroom and began to sexually assault her, according to her account."
"She pulled away from him and he dragged her down a hallway into the bathroom where he engaged in a criminal sexual act, according to her account to detectives. He tried to lock her into the hotel room."
Mr Strauss-Kahn then made his way to the airport but left his mobile phone and other items behind, Mr Brown said.
Source : BBC