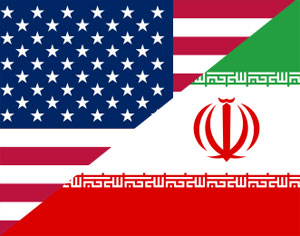 Looks like Iran's threat to attack US's Navy has worked. Well, we can't really put a finger on it because US's response to Iran's threat seems vague.
Here is the story, Iran is conducting military Navy drill in the Persian Gulf and has said that US has moved one it's aircraft carrier to the Sea of Oman. Iran on noticing this issued a warning on not to return again and if they do they will attack.
The Warning/Threat:
Army chief Ataollah Salehi said the United States had moved an aircraft carrier out of the Gulf because of Iran's naval exercises, and Iran would take action if the ship returned.
"Iran will not repeat its warning…the enemy's carrier has been moved to the Sea of Oman because of our drill. I recommend and emphasize to the American carrier not to return to the Persian Gulf, I advise, recommend and warn them over the return of this carrier to the Persian Gulf because we are not in the habit of warning more than once." he said.

The Response:
Pentagon's reply, doesn't really makes any sense. Looks like they are just brushing off the warning.
"The deployment of U.S. military assets in the Persian Gulf region will continue as it has for decades," Pentagon Press Secretary George Little said in a statement sent to Yahoo News Tuesday. "These are regularly scheduled movements in accordance with our longstanding commitments to the security and stability of the region and in support of ongoing operations."
"The U.S. Navy operates under international maritime conventions to maintain a constant state of high vigilance in order to ensure the continued, safe flow of maritime traffic in waterways critical to global commerce," Little's statement continued. "We are committed to protecting maritime freedoms that are the basis for global prosperity; this is one of the main reasons our military forces operate in the region."
Iran does seems to be on hot waters because of all the sanction being imposed on it. The latest sanctions that have been authorized by President Obama over the weekend seems to be doing more damage to Iran's economy as these were sanctions against Iran's Central Bank.
Well, As Newton stated, if you hit someone, its bound that they reply it back. I reckon, US knew what they were doing and were anticipating a perfect reason to war on Iran.